START YOUR JOURNEY NOW
GET STARTED OR IMPROVE YOUR LIVESTREAMS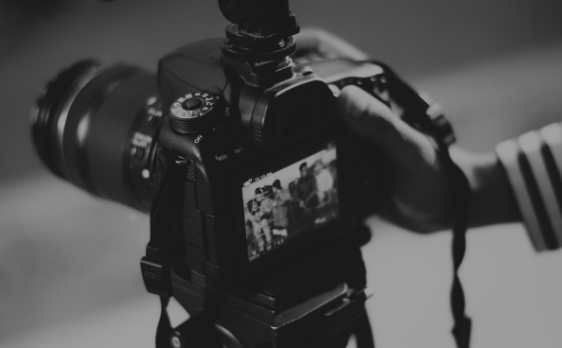 This course introduces participants to the fundamentals of Music Video Production. Participants will delve into the world of Music Video Concept Development, Filming and Camera Operations, Editing, Lighting and Audio for Video among other essential topics.
At the end of this course, participants will:
Operate various video recording and editing technologies, without assistance.

Explain video production theories, with minimal assistance.
Co-operate with peers on video production projects, with supervision.
Create music video productions at a level judged satisfactory by the instructor.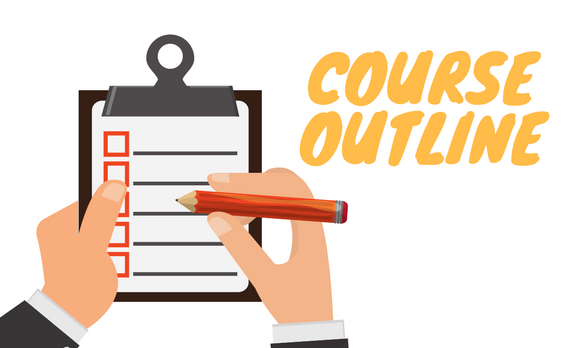 Course Content:
Introduction to Music Video Production
Video Cameras- Features and Operation
Elementary Video and Sound Editing
Video Shoot Preparation
Technical Aspects of Video Production
Music Video Filming Practical
Each student that completes our training and assignments receive a Certificate of Completion from our institution.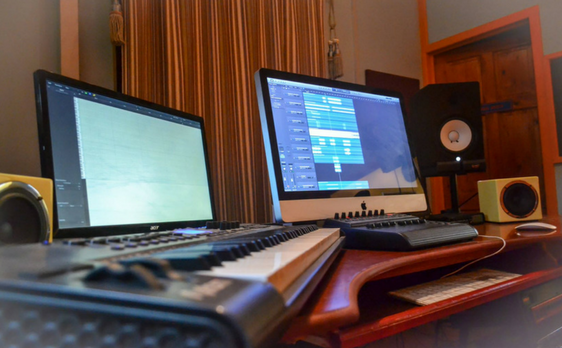 Next Start Date: Feb 23rd to March 27th, 2019
Meeting Times: Saturdays 10AM to 1PM and Wednesdays 5:30-8:00PM
Hardware Requirements:
64 gb or larger Flash Drive
32 gb or larger SD card
Cell Phone with Video Recording Capabilities
1 Notepad
Software Requirements: All other hardware and software will be provided for classroom use.
Cost: $1850 Click Here for Payment Options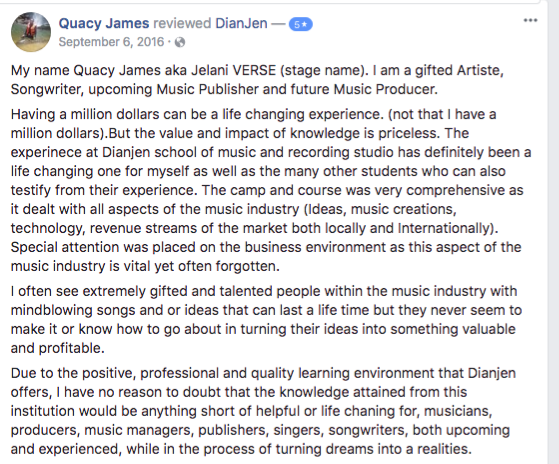 When You Join Our Family You Also Get
Free Learning Materials

Access to Our World Class Learning Management System

Ultra Modern Facilities
Guest Lectures

Access to Audio Journals & Magazines

Special Workshops & Seminars
Recording Opportunities

Live Sound Engineering Experience

Access to Internships and Practical Opportunities
A Closer Look at What You Will Learn
● What are the available careers in Video Production and what is involved with each? ● What is a Videographer, Video Editor, Sound Engineer, Director, Graphics Editor? ● What are the expectations regarding appropriate use of video equipment? ● Who and how was the first video camera invented? ●What are the basics of using a video camera?
● Basic camera shots and angles along with framing heights? ● Video sequence, how are wide, medium and tight shots incorporated into
video? ● The 180 degree rule for video composition? ● Continuity in video production? ● Zoom, pan and tilt and how are they used in getting video camera shots? ● Basic operational techniques for video Cameras?
● Video editing software operation- Final Cut Pro and Adobe Premiere? ● Video imports ● Simple editing in Final Cut Pro and Adobe Premiere? ● How are videos exported in Final Cut Pro and Adobe Premiere?
Story structure and how does the beginning, middle and end of a story relate to video segments? ● What is the difference between a dramatic and factual story for video? ● Storyboard and how is it used to organize and plan a story ●How to write a script for music videos? (listening the song) ● Who makes up your production crew? ● Location scouting and choosing backgrounds (chroma key etc) ● Shot list, props, casting and choosing the right equipment. ● The business of Music Video Production (Contracts, Invoices and Receipts)
● Shooting People and Objects ● Lighting for Video ● Audio for Video ● Directing ● Director of Photography ● Switching roles (Camera Operator, Director, Technician, Subject)
Students would be required to shoot a Music Video for a Recording Artist using the methods learned in class. This will be an indoor or outdoor activity and students would be broken into groups and expected to function in the designated role required to perform their duties successfully. Students must display punctuality, problem solving skills and efficiency along with a positive attitude in the face of adversity. Music Video must be shot, lit, directed and edited according to industry standards and made ready for Television and Social Media Platforms.
This course is software agnostic- not focused on teaching any one application. We focus on teaching music video production concepts and view software as a tool. You can therefore use any video production software.
Yes! All participants completing the programme and coursework assignments receive a Certificate of Completion from DianJen.
Yes! You receive a $200 discount for full payment at registration. However, you can choose to make 2 monthly payments  (See Tuition Fees & Payment Plan section)
Tuition Fees & Payment Plans
Producing the Music Video
$
1650 TTD
Full Course Tuition
DianJen Certificate of Completion