Adobe Illustrator CC
WHAT YOU NEED TO KNOW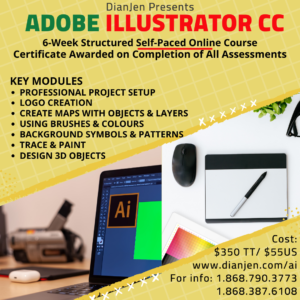 Adobe Illustrator CC is a self-paced 6 week, online programme that explores the explores the use of the popular graphic design software. The course uses practical projects to demonstrate the content areas. As a participant, you will cover a number of professional concepts to help you get started in the field, or provide new insights that can help you to grow your skills!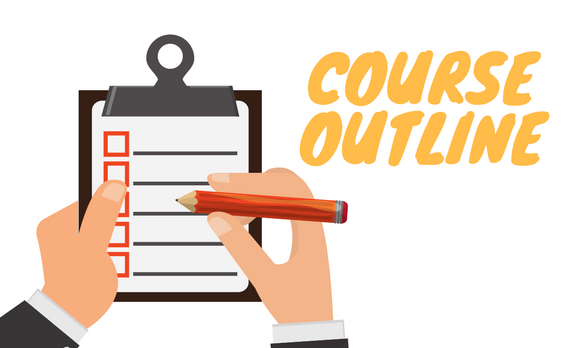 Course Content:
Professional Project Setup
Logo Creation
Create Maps with Objects and Layers
Using Brushes and Colours
Background Symbols and Patterns
Trace and Paint
Design 3D Objects
Next Start Date: October 1st, 2021
Meeting Times: This Class is Fully Online. Upon enrollment, you will receive log-in details for our Virtual Classroom within 24 hrs.  You can access the online platform at any time that is convenient to you over the period of the course.
Hardware Requirements: Participants should have access to a reliable broadband internet service for the best experience on this course.
Software Requirements: Participants should have the latest version of the Google Chrome Browser installed. For the Adobe Illustrator aspect of the class you can use the trial software version to practice the concepts.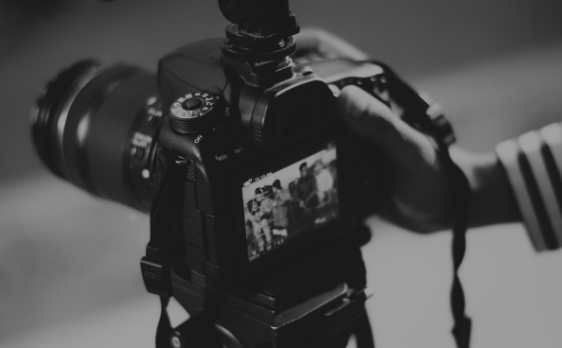 Meeting Times: This Class is Fully Online. Upon sign-up, you will receive log-in details for our Virtual Classroom within 24 hrs. You can submit your assignments anytime during the 6 week period, but you MUST complete and pass all assignments with a minimum score of 50% to be awarded the Certificate of Completion.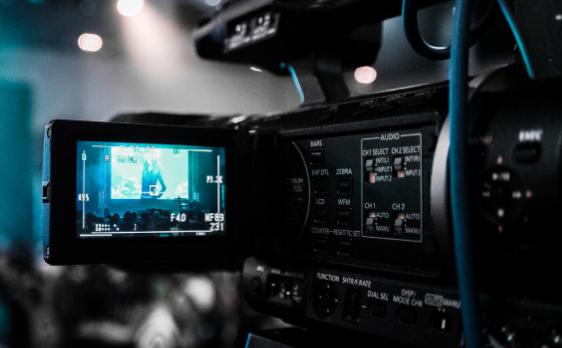 Each student that completes our training and assignments receives a Certificate of Completion from our institution. The certificate is awarded when all module quizzes are completed by the participant.
A Closer Look at What You Will Learn
In this module, you learn many powerful tips and tricks to save you time and increase your productivity as you work on your Illustrator projects.
Preliminary Setup and the info layer
Panel and Workspace Setup
Using actions
Repeating Patterns
Setting Up Brushes
Colourization Methods, Shape Modes etc
Much more concepts
The tutorial begins by showing you how to work with basic Lines and Shapes, but quickly delves deeper by demonstrating the advanced attributes of Strokes, Fills and Gradients. In a very short time, you will have a thorough understanding of the intrinsic power of these components. It then moves on to show you the power of the Pen tool. Along the way, he also shares many of his special Pen tricks on how to best modify B.
Fills, Strokes and Gradients
The Pen Tool
Working with layers
Transforming with Tools/ Advanced Transforms
Working with Texts
Much More Concepts
Layer basics and tricks
Placing other artwork
Links and embedding
Isolation Mode
Artboards
The Path Finder
The Shape Builder
Clipping Masks
Much More Content
When designing repetitive objects in Adobe Illustrator, there's a palette of techniques you can use to enhance your creative process. Whether you're working with a simple pattern or even a complex tessellation these tools, when used to their full potential, are designed to save you a lot of time while simultaneously expanding your creative potential! This course shows you how to deploy both the Symbols and Pattern tools to do just that!
Learn how powerful Symbols are in Illustrator CC! You'll see everything from the very basics of symbol creation to the advanced techniques you can employ to transform what may have started out as a simple object into a vast array of complex interrelated objects of varying shapes, sizes, colours and styles… all with just a few simple clicks and drags!
Next up, you'll learn the power of Patterns. You'll learn the pattern building process, step by step, showing you all the options and illustrating some of his favourite pattern creation techniques.
Look at a variety of different tracing types and techniques for digitising different kinds of real-world media. The course also highlights the exciting automatic tracing functions that Illustrator offers, but and shows you the special tricks that are still needed to give your illustrations that human touch!You then see how to colour your new digital tracings. The exciting new Live Paint features which make colouring a snap is covered! See how fast and fun it is to colour artwork in Illustrator CC!Experience how artwork cleanup can be fun with so many "power tools" at your fingertips- numerous ways of ensuring that your artwork is in its cleanest form before and after you bring it in to Illustrator. Finally you see how to build Brushes, Patterns and even 3D Objects from your freshly coloured digital tracings!
There is an inherent excitement when taking 2D objects and making them 3 Dimensional. It's as if you are somehow bringing them closer to real-life. In this course, see the excitement around Creating 3D objects in Illustrator CC.
Explore how easy it is to create a 3D solid shape by performing a Revolve with a 2D outline in 3D space. Once you've created the 3D shape, you then see how intuitive it is to edit the 2D object, which automatically updates its 3D form! Fantastic!
You'll then explore the classic technique of creating extruded 3D Text… the Illustrator way. Accelerate your learning into other kinds of 3D extrusions and shows you advanced methods on how to edit and map artwork onto these objects. Along the way, the trainer shares numerous additional pro tips, packing more value into this already action-packed course.
Next, venture into the area of Perspective Planes and their associated tools.See how by making full use of the Perspective tools available in Illustrator CC, you can effortlessly add attractive artwork to existing photographs… while easily maintaining one, two or more perspective points!
By the end of this inspiring course, you'll be excited by the possibilities of using all 3 dimensions to their fullest in your professional Illustrator projects. What's more… Illustrator might just become your new favorite 3D program!
A Demo of Our Learning Platform
This may not be the content from your actual course
When You Join Our Family You Also Get
All Learning Materials

Access to Our World Class Learning Management System

Membership in our ArtistSnacks Alumni Group
Webinars with Various Regional Music Business Professionals

Special Industry Newsletters
Discounted Recording Packages

International Music Business Training Library
This course is open to everyone with an interest in the content. There are no formal age or academic requirements for entry!
Yes! All participants completing the programme and coursework assignments receive a Certificate of Completion from our school.
This is a 6-week professional development programme for persons wanting to gain a solid understanding of the content areas. As a 'short course', this programme has not been accredited by any state or thrid-party body at this time.
Tuition Fees & Payment Plans
For Trinidad & Tobago Residents
Full Course Tuition
DianJen Certificate of Completion
For Caribbean and International Residents
Full Course Tuition
DianJen Certificate of Completion