YOUR JOURNEY STARTS HERE
MASTER THE ART OF SOUND RECORDING & MUSIC PRODUCTION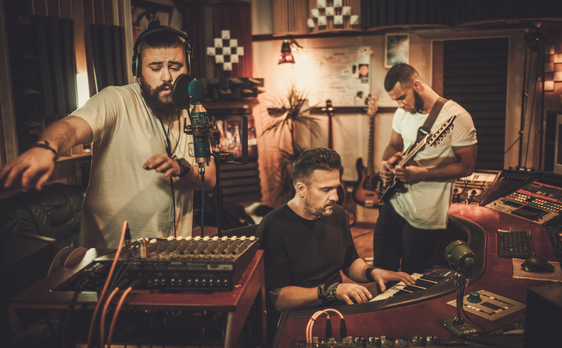 The emergence of digital recording technology has made it easier for musicians and enthusiasts in the Caribbean to enter the field of Sound Recording and Music Production. While some have obtained formal training, many have learnt by trial and error and therefore require knowledge of the relevant theory to complement their practice. In addition, many are desirous of improving their current technique, while others are interested in becoming certified in the field. The Producing the Record Programme provides fundamental training for both aspiring and experienced music producers. It provides thorough coverage of all of the concepts you will need to know as a music producer and provides opportunities for practical and one on one training.
At the end of this course, students will:
Explain the theory underpinning the operation of various audio technologies, without assistance.

Select appropriate equipment for Music Production tasks, with minimal assistance.
Co-operate with peers on various audio projects, with supervision.
Create music productions at a level judged satisfactory by the instructor.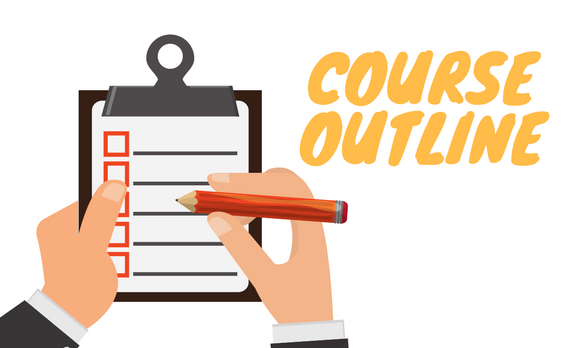 Course Content:
Fundamentals of Acoustics
Connectors and Cables Design
Microphone Theory and Techniques
Mixing Console Design and Operation
Audio Processing Tools and Techniques
Composing with MIDI
Fundamentals of Digital Audio
Recording Caribbean Music
Editing and Mixing Digital Audio
Introduction to Live Sound
Creative Enterprise Management
Each student that completes our training and assignments receive a Certificate of Completion from our institution. In addition to this, students may opt to pursue the Level 2 Caribbean Vocational Qualification (CVQ) in Music Production by completing a portfolio and assessment process. The CVQ is an award by CARICOM and is recognized throughout the region.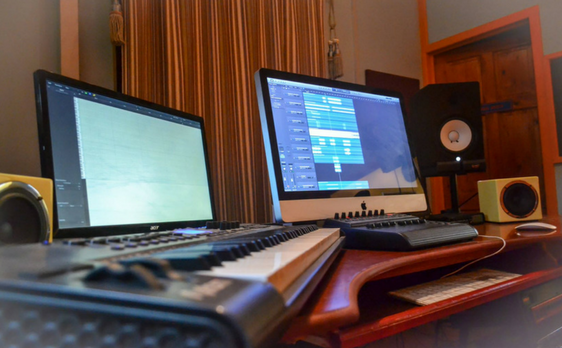 Next Start Date: Feb 1st 2021 (6 weeks long)
Meeting Times: Mondayss 5:30-8:00PM. You will also have asynchronous work to do in our online classroom!
Cost: $1850
Hardware Requirements: All participants MUST have their own laptop computers (PC or Mac) for classroom use, as well as access to a reliable internet service for private study.
Software Requirements: Participants should also have their own DAW software installed. Software can be from any manufacturer that the participant is comfortable using and must have sequencing and music making capabilities.  Reason Essentials is a good option for those wishing to purchase an affordable solution with the minimum features required for the class.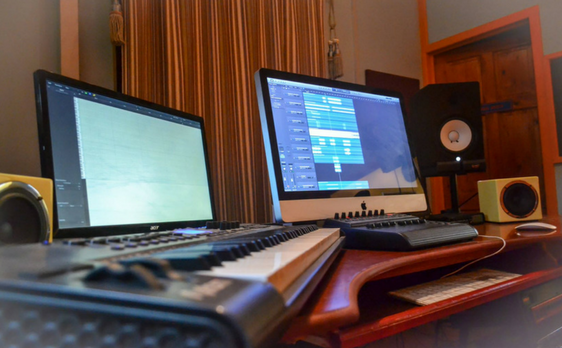 At DianJen we provide industry standard hardware and software for our students . Our facility is equipped with an acoustically treated recording studio with full Live Room for live recording demonstrations. We also have an assortment of microphones, mixing consoles and audio interfaces for demonstrations and classroom use. Our Arouca facility includes a state of the art, inline analog console.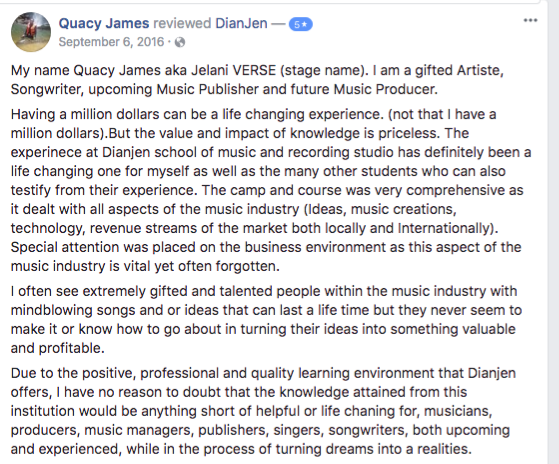 When You Join Our Family You Also Get
Free Learning Materials

Access to Our World Class Learning Management System

Ultra Modern Facilities
Guest Lectures

Access to Audio Journals & Magazines

Special Workshops & Seminars
Recording Opportunities

Live Sound Engineering Experience

Access to Internships and Practical Opportunities
A Closer Look at What You Will Learn
At the end of this unit, participants will: explain how sound waves are generated, discuss the concepts of frequency, period and wavelength, evaluate sound absorption and reflection concepts, examine the acoustic properties of different surfaces and materials, explain units of sound measurement; e.g. decibels, hertz, operate sound measurement equipment and conduct signal analysis.
At the end of this unit, participants will: explain the uses of the various audio cables, use Direct Injection Boxes, assess the significance of impedance and how it relates to balanced and unbalanced cables, demonstrate safe practices in using soldering iron: observing temperature, make balanced and unbalanced cables- XLRF-XLRM, TRS-XLR, TS-TS etc.
At the end of this unit, participants will: understand the various types of microphones- Dynamic, Condenser and Ribbon, explain the directional and frequency characteristics of each type of microphone- Polar Patterns- Cardiod, Figure Eight and Omnidirectional, apply phantom power to relevant microphones, examine the proximity effect, apply different miking techniques.
At the end of this unit, participants will: e

valuate the features and operating procedures of different types of Mixing Consoles- Analog, Digital and Powered, e

xplain signal flow and each control on the channel strip, f

ollow the proper procedures to connect and power on/off the Mixing Console.
At the end of this unit, participants will:
Examine the function and operation of EQ and various filters.
Apply dynamic processing tools to recorded music- Compressors, Limiters, Noise Gates, and Expanders.
Use Reverb, Delay and Echo on Musical Productions.
Interface external effects units with the Mixing Console.
At the end of this unit, participants will:
Discuss the software and hardware required for sequencing music.
Examine chosen genres and styles and their musical forms.
Create drum tracks using Step-Time and Real-Time programming techniques.
Listen critically to own compositions and the work of others to inform and expand personal technique.
Create musical productions using MIDI tools.
At the end of this unit, participants will:
Justify the need for Digital Audio Systems.
Assess the characteristics of Digital Audio- Sampling Rate, Quantization, Aliasing, and Dithering.
A-D/ D-A Conversion
At the end of this unit, participants will:
Select and Set-up Microphones for recording the studio rhythm section and brass instruments.
Use software to create multitrack recordings of bands and vocals.
Use standalone (hardware) recorders to capture live sound.
At the end of this unit, participants will:
Edit vocal and instrumental recordings
Apply signal processing techniques to enhance recorded audio.
Evaluate the domains of mixing. Domains- Frequency, Level, Time, Stereo and Depth.
Examine the objectives- Mood, Balance, Definition and Interest.
Use software to craft a mix
Preparation of Mix for Mastering.
This course is software agnostic- not focused on teaching any one application. We focus on teaching music production concepts and view software as a tool. You can therefore use any DAW with sequencing and music making capabilities.
Yes! All participants completing the programme and coursework assignments receive a Certificate of Completion from DianJen. Participants desirous of certification that is recognized throughout the Caribbean have the option of pursuing the Caribbean Vocational Qualification which is awarded by the National Training Agency.
Yes! You receive a $25 discount for full payment at registration. However, you can choose to make 3 monthly payments for of $625 per month. (See Tuition Fees & Payment Plan section)
The Caribbean Vocational Qualification (CVQ) is a CARICOM approved award that represents achievement of a set of competencies which define core work practices in the fields of Sound Recording and Music Production. To earn an award, candidates must demonstrate competence in reaching CARICOM-approved occupational standards by completing a portfolio and undergoing an assessment process.
The CVQ is r
ecognized & portable qualification in CARICOM / Rest of the World. 
It has parallel standing with academic qualifications at the same level and provides evidence that you have met minimum regional standards in Sound Recording and Music Production. Your past work experience and skills also count towards the CVQ.
Tuition Fees & Payment Plans
Full Tuition & CVQ Certification
Full Course Tuition
DianJen Certificate of Completion
CVQ- Level 2, Music Production