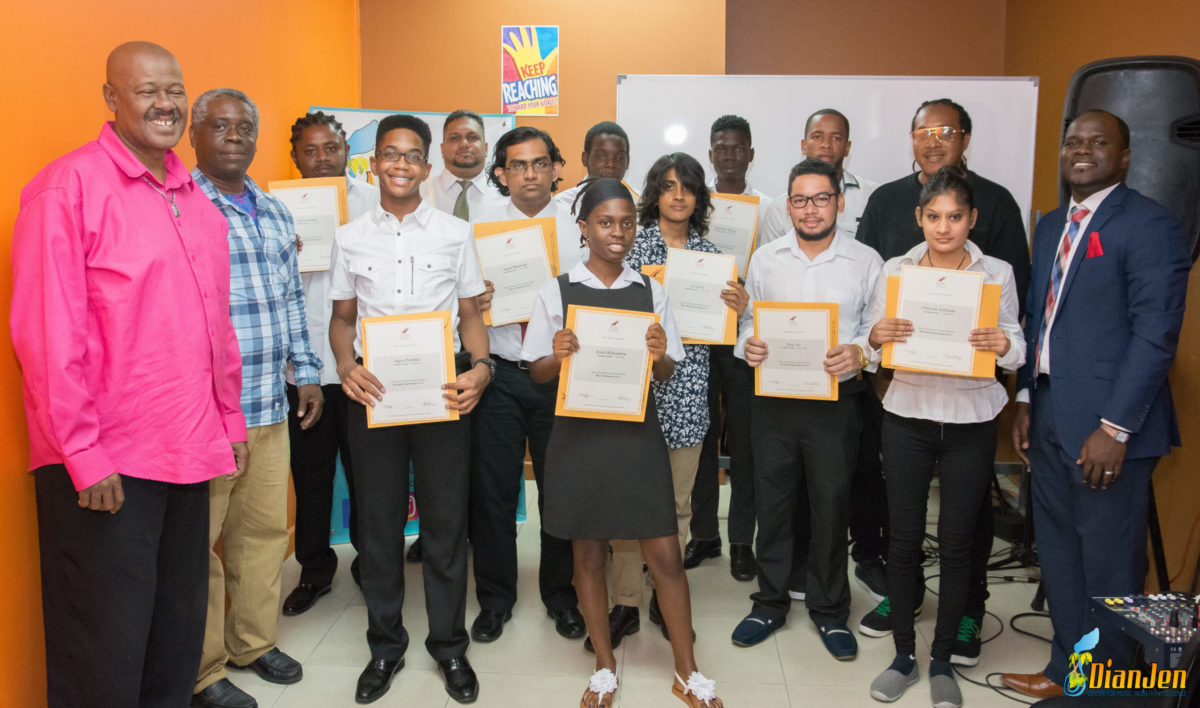 On Sunday 1st March, 2020, DianJen held a graduation ceremony for fourteen 14 graduates of its Music Technology programmes. The ceremony which took place at the school's Centre for Music Industry Excellence in Gasparillo, marked the completion of 2 cycles of the institution's Producing the Record and Loud 'N Clear Music Technology Programmes. The successful graduates were presented with their Caribbean Vocational Qualification (CVQ)- Level 2 Certification in three music technology skill areas: Live Sound Engineering, Music Production and Recording Engineering.
In delivering the welcome address, Farley J Joseph, founder of the organisation, pointed out that the CVQ is a regionally recognized award by CARICOM that allows candidates to qualify for the CARICOM Skills Certificate that can enable travel and work in other CARICOM islands without the need for a work permit. As the only privately run school that is fully approved by Ministry of Education- National Training Agency (NTA) in Trinidad and Tobago to offer training leading to the CVQ, our goal has been to deliver industry standard training in Live Sound Engineering and Music Production. He stated that the school's programmes cater to persons now starting out in the field, as well as those who are established and may have learnt by trial and error but are desirous of learning the relevant theory to complement their practice, as well as those who endeavour to develop their craft without having to enroll in a full-time programme of study.
The feature address was delivered by internationally renowned, Music and Music Video Producer, Sheldon Mendoza. He shared his personal story of hard work that enabled him to grow in the industry despite facing several challenges. He encouraged graduates to stick to their interests, despite the naysayers and also help others to grow- as he himself has invested in nurturing and developing several artistes that are successful on today's landscape.
In explaining the genesis of the programmes, founder Farley J Joseph, shared his personal story of being a young musician, completing A levels and seeking training in audio engineering. He recalled that there were no schools offering a structured recognized training programme at that time in T&T and although he tried reaching out to various producers for internships- their busy nature always interrupted his learning. He explained that in 2010 he received a national scholarship that allowed him to earn a Master's degree in Music Business and Music Technology at New York University and upon returning to Trinidad in 2012, he started DianJen in 2013! His primary goal since has been to provide the type of training opportunities he did not have access to, when starting out. Also present at the event were, ace Songwriter and Producer, Christopher Morris and Audio Engineer, Nicholas Noel- both gentlemen have contributed significantly to the development of the school's Music Tech programmes.
Congrats to 2020's  Successful Participants!!
Music Production & Recording Engineering
Javid Ali
Riaz Ali
Keron Cooper
Kerron Ghent
Ngozi Permaul
Justin Ramroop
Jewel Richardson
Cherisse Seeberan
Live Sound Engineering
Riaz Ali
Salim Charles
Keron Cooper
Anthony Lynch
Denzel Prime
Allex Mc Nichol
Deochand Sirju