Announces Full Tuition Scholarships
UNESCO/ Creative Caribbean recently announced the award of a grant to DianJen to bring the Online School of Music Industry Studies to  market. In the immensely competitive initiative 25 grantees were selected from in excess of 250 applicants. It is a collaboration between UNESCO, the CARICOM Secretariat and the University of the West Indies (UWI) through a regional project entitled 'Creative Caribbean – An Ecosystem of "Play" for Growth and Development.' The purpose of the grant is to improve the economic conditions of creatives to stimulate sustainable growth of the Cultural and Creative Industries (CCIs) in the Caribbean- a sector that provides millions in revenue and in which thousands of people find full-time and part-time work.
The Launch of the Online School of Music Industry Studies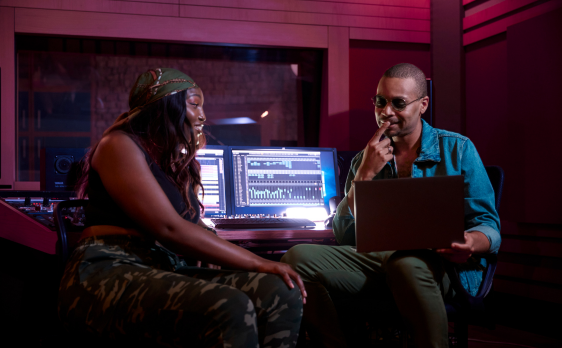 The online school will offer internationally recognized certifications in the Creative Music Industry-awarded by RSL Awards in the UK!  In its first year (2023/24) 30 participants, from various Caribbean islands will be awarded full-tuition scholarships to participate in the Music Industry Leadership Programme. This programme will be made up of of two tracks- the Music Management and Entrepreneurship Pathway and the Music Mixing and Mastering Pathway. The instructional format will include self-paced tutorials with self-marking quizzes, summative course work projects, fortnightly live masterclasses with regional industry experts, online community tasks/networking and live tutorials with Q&A segments. Participants will have the opportunity to earn the Level 3 Certificate in Music Management and Entrepreneurship or Level 3 Certificate in Mixing and Mastering- both awarded by RSL Awards, depending on the track chosen! The programmes will begin in October 2023 and comprise 2 cycles- Cycle 1- October 2023- January 2024 and Cycle 2- February-May 2024!
Eligibility & Registration
To apply participants should ideally have at least 5 years consistent experience in music business or music production as evidenced by their portfolio of work and/or previous training. They will be asked to complete an application form or video outlining their experience and commitment to good success on the programme. Those with at least 2 years experience and can demonstrate consistency and long-term commitment to the Caribbean music industry will also be considered. Once selected, participants will be required to pay a registration fee of $100USD.  This will be applied to their registration and certification fee with RSL Awards.
Founder of DianJen, Farley J. Joseph  expressed gratitude to UNESCO and Creative Caribbean for seeing the value in the intervention proposed by his organisation. He reminded that DianJen has been pursuing capacity development in the music industry since 2012 with programmes such as the Music Industry Technical Camp – a partnership with the Ministry of Tourism, Culture and the Arts in Trinidad from which 90 participants graduated and are in active full-time and part-time practice, as well as the organisation's ongoing industry training initiatives from which persons have earned the regionally recognized CVQ certification in music technology areas,improved their skills and started music businesses! He said that the grant will contribute to the company moving closer to its vision which sees every Caribbean musician as an entrepreneur. Embracing trends in technology to grow their skills and income.
In addition to the international certification segment, the online school will continue offering self-paced online short courses in new music and media areas such as Introduction to Game Audio, Scoring Music for Film and Multimedia, Music Production 101   which it started during the COVID-19 pandemic. The full catalog of these courses can be viewed here. 
If you want to be notified when registration for Cycle 1 or 2 of the Music Industry Leadership Programme opens, tap this link to join the mailing list- http://eepurl.com/g_pTVD.